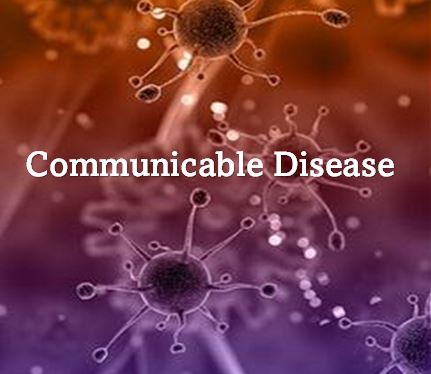 The Communicable Disease Unit provides guidance and information to assist medical providers in the identification and reporting of communicable diseases and conditions. Reporting is crucial for disease surveillance and detection of disease outbreaks. Under the California Code of Regulations, Title 17 (Section 2500), medical providers and others are mandated to report certain diseases or conditions to the San Benito County Public Health Services. Physicians, surgeons, veterinarians, podiatrists, nurse practitioners, physician assistants, nurses, nurse midwives, infection control practitioners, medical examiners, coroners, dentists, and administrators of health facilities and clinics that know of a case or suspected case of a communicable disease are required to report to the local health department (CCR, Title 17, Section 2500). In addition, anyone in charge of a public or private school, kindergarten, or preschool is required to report communicable diseases (Section 2508). Laboratories are also required to report to the local Public Health Department (Section 2505).
For more information or assistance in reporting cases of communicable disease or outbreaks, call (831)637-5367.
Fax a Confidential Morbidity Report to (831) 637-9073.
San Benito County Public Health Services continues to track data and provide guidance on COVID-19 to help understand and reduce the spread and impact of COVID-19 in our community. CDC recommends COVID-19 vaccines for everyone 6 months and older and boosters for everyone 5 years and older. Please find resources and data in the links below.
COVID-19 Data Dashboard 
COVID-19 Isolation Guidelines
COVID-19 Vaccine
COVID-19 Testing
COVID-19 and Schools/Childcare and School Reporting Form
COVID-19 and Businesses and Workplace Reporting Form
COVID-19 is caused by a coronavirus called SARS-CoV-2 and can affect people differently. People infected with this virus have reported a wide range of symptoms (from mild to severe) including fever/chills, cough, shortness of breath, fatigue, body aches, headache, new loss of smell or taste, sort throat, nasal congestion, nausea/vomiting, and diarrhea. Seek emergency medical care immediately if you or someone know is showing these signs: trouble breathing, persistent pain or chest pressure, or new confusion. COVID-19 spreads when an infected person breathes out droplets and small particles that contain the virus, or sometimes these droplets and particles may contaminate surfaces. For more information about COVID-19 visit CDC's website.  The CDC recommends all eligible ages receive COVID vaccination to be as protected as possible. For vaccination locations, please check with your provider, the pharmacies, clinics, Public Health Services and https://myturn.ca.gov for more information.
Coccidioidomycosis also known as Valley fever or Cocci is a common fungal disease transmitted through inhalation of spores carried in dust. It is more prevalent in agricultural areas and places where construction occurs. Many infected people show no symptoms or have mild respiratory illness, but some people develop severe illness like pneumonia, meningitis, or dissemination (when the fugus spreads to many parts of the body).

Nestled between the Central Valley and Central Coast, San Benito County is an area of increased concern for Valley fever infections, especially among those who spend more time outdoors and are exposed to dirt and dust. Valley fever can cause severe illness and hospitalizations, especially in people at higher risk of infection.
For additional information and resources, please visit the CDPH Valley fever website.
Enteric illness typically affects the digestive tract (stomach and/or intestines) causing symptoms such as diarrhea, fever, chills, abdominal pain, dehydration, and/or vomiting. Most enteric infections are caused by ingesting contaminated food or water. Common enteric illnesses include Campylobacter, Botulism, E. coli, Salmonella, Shigella, Staphylococcal food poisoning, and Typhoid fever.
Reduce the risk of exposure by:
Washing your hands frequently with soap and water for 20 seconds (before cooking, before eating, after changing a diaper, and after using the restroom).
Avoid swallowing water when swimming (especially in lakes, rivers, or oceans).
Following food and water precautions when traveling internationally.
Cooking, preparing, and storing food appropriately
Hepatitis is primarily caused by 3 distinct viruses, infecting/targeting the liver: Hepatitis A virus, Hepatitis B virus, and Hepatitis C virus. Most people with hepatitis are not aware they are infected and show no symptoms. If symptoms do occur, they appear anytime from 2 weeks to 6 months after exposure (symptoms of chronic viral hepatitis C can take decades to develop). Symptoms include fever, fatigue, loss of appetite, nausea, vomiting, abdominal pain, dark urine, light-colored stools, joint paint, and jaundice.

Hepatitis A
Hepatitis A is spread when a person ingests food/drink (or touches objects) contaminated by the feces or stool from an infected person. People can be sick for a few weeks to a few months. Most people recover with no lasting liver damage. The Centers for Disease Control (CDC) recommends the Hepatitis A vaccine to prevent infection with Hepatitis A. 

Hepatitis B
Hepatitis B is primarily spread via blood, semen, or certain other body fluids. Hepatitis B can also be transmitted from mother-to-child (during childbirth), sexually, by sharing equipment (such as needles, syringes, glucose sticks, etc.) contaminated with the virus. Illness from Hepatitis B can range from mild (lasting a few weeks) to a serious, life-long condition. People infected with Hepatitis B can develop chronic, life-long infections, especially if unvaccinated. The Centers for Disease Control (CDC) recommends the Hepatitis B vaccine to prevent infection with Hepatitis A. 

Hepatitis C
Hepatitis C is spread through contact with blood, including sharing equipment (such as needles and syringes, glucose sticks, etc.) contaminated with the virus. Illness from Hepatitis C ranges from mild (lasting a few weeks) to a serious, life-long (chronic) condition.  People infected with Hepatitis C can develop chronic, life-long infections. There is NO effective vaccine available to prevent infection with Hepatitis C.  Reduce risk of infection due to Hepatitis C by:  avoiding high-risk activities such as: sharing needles, having unprotected/unsafe sex, etc.
Influenza also known simply as "flu" is a contagious respiratory illness caused by influenza viruses. Symptoms range and can include fever, headache, fatigue, cough, sore throat, and body aches. Flu circulates year-round, but flu season usually begins in October and can last as late as May. During this COVID-19 pandemic, we have seen irregular flu activity patterns (earlier and later in the year than usual) in San Benito County. Flu can be serious and life-threatening depending on strain, age, and pre-existing conditions.
Flu virus strains circulating during flu season can change year to year. Flu vaccines are designed each year to protect against the strains research shows will be the most common for the upcoming flu season.   This is why it is so important to receive a flu vaccine every year. The CDC recommends everyone age 6 months and older to receive flu vaccine as soon as it is available each flu season.  Flu vaccine is widely available in our community every season. For flu vaccination locations, please check with your provider, local pharmacies, clinics, Public Health Services and https://myturn.ca.gov for more information.
Measles is a highly contagious and serious respiratory disease caused by a virus. Measles can lead to complications and death, especially in young children under 5 years of age. Measles can be prevented with MMR vaccine. This vaccine protects against three different diseases: measles, mumps, and rubella. Measles spreads through the air when an infected person coughs or sneezes and can stay in an airspace for up to two hours after an infected person leaves the space. Typically, measles symptoms begin 7-14 days after infection with high fever, cough, runny nose; followed by a rash 3-5 days after symptoms start.

Most people in the United States are vaccinated against measles, so the risk for measles to the public is low. Anyone who is not protected against measles is at risk of contracting measles. Cases of measles are often imported by unvaccinated travelers and people from other countries every year. Make sure you have been vaccinated against measles before traveling internationally. The Centers for Disease Control (CDC) recommends the Measles (MMR) vaccine to prevent infection with measles. 
Mpox is a rare disease that spreads primarily through direct contact with body fluids/sores of an infected person or through direct contact with objects/surfaces used by an infected person. It can also spread through respiratory secretions during prolonged, face contact or contact with an infected animal or infected animal products.
Mpox can affect anyone regardless of age, gender identity or sexual orientation. The risk for mpox to the general public is low. Although most cases resolve on their own, the virus can be serious and painful.
San Benito County Public Health Services is working with the California Department of Public Health (CDPH), local health providers, and neighboring health departments to monitor mpox, provide health education, and help control the spread of the virus.
As of September 12, 2022, 5 confirmed cases of mpox have been reported in San Benito County.  
Symptoms
Mpox symptoms usually start within 21 days (3 weeks) of exposure. Mpox can start with flu-like symptoms (e.g., fever/chills, sore throat, headache) followed by a rash or lesion 1-4 days later. The rash/lesion may initially look like a pimple or blister and may be painful and/or itchy. Rash can develop on or near the genital area, hands, feet, chest, face, and/or mouth. Mpox is considered contagious from the start of symptoms until all lesions have healed, scabs have fallen off, and a fresh layer of skin has formed. Mpox can last 2-4 weeks.
Pertussis, also known as whooping cough, is a very contagious respiratory infection that spreads from person to person and is caused by bacteria. Pertussis can cause violent, uncontrollable coughing fits. Pertussis can affect people of any age but can be serious and even deadly for infants under a year old. Adults and children can spread pertussis to infants. Vaccines are safe and effective against pertussis and are recommended for people of all ages, starting at 2 months old. The Centers for Disease Control (CDC) recommends the Pertussis (Tdap or DTaP) vaccine to prevent infection with pertussis.
There are several different STDs.  Some of the most common STDs include chlamydia, gonorrhea, herpes, HPV, and syphilis. You can reduce your risk of STD infection by practicing abstinence, utilizing vaccines (for hepatitis B and HPV), reducing your number of sexual partners, practicing mutual monogamy, or using condoms and safe sex practices. Ask your healthcare provider to test you for STDs.  Most STDs can be easily diagnosed and treated. 

The Importance of Treatment . . .
Chlamydia is a common, but treatable STD. If left untreated, chlamydia can make it difficult for a woman to get pregnant. Gonorrhea is another common STD that can be treated with the right medication.  If left untreated, gonorrhea can cause very serious health problems. Syphilis can have very serious problems when left untreated, especially for pregnant women. Syphilis is simple to cure with the right treatment.

San Benito County Public Health Services provides support, guidance, and follow-up for cases of reportable STDs within San Benito County. Free condoms for adults and teens age 13+ are available by request at Public Health Services – 351 Tres Pinos Rd, Suite A-202 Hollister, CA 95023.
TB is caused by the bacteria Mycobacterium tuberculosis.  While it usually affects the lungs, TB bacteria can attack any part of the body including the kidneys, spine, or brain. Not everyone infected with TB becomes sick, leading to two different conditions: TB disease and latent TB (LTBI). People who are sick with active TB disease can spread TB to others when they cough, sneeze, or speak, while LTBI is not contagious.
TB can cause serious illness and can be fatal. Some people will develop TB disease soon after being infected. Others may get sick from TB years later. General symptoms of TB disease include fever, malaise or weakness, weight loss, and night sweats. Symptoms of TB disease in the lungs include coughing (lasting more than 2-3 weeks), chest pain, and coughing up blood.
There is no recommended vaccine for TB disease in the United States, but LTBI and TB disease can be treated with the appropriate medication.