Public Health Emergency Preparedness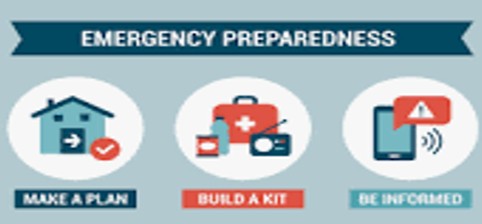 1. Build an  Kit
Assemble enough emergency supplies for at least 3 days.
Include a first aid kit, food & water, prescriptions or over the counter medications, chargers/batteries, pet supplies, diapers and infant formula, etc.
Don't forget your ID and other important documentation.
Use easy-to-carry bags or bins and consider an emergency kit for each vehicle.
2. Make a Plan
Form an evacuation plan and pick a designated place to meet. Pick a friend to call if you get separated from your family. Account for all family members and report any missing  persons to law enforcement personnel. Talk with your family and practice your plan. Read more  about school and workplace emergency plans.
3. Be Informed
Listen to your local news stations via radio or tv. Have a battery-operated radio on hand. Follow instructions given by emergency officials. If you can't immediately follow the directions given, take shelter and/or notify emergency services of any assistance you need.