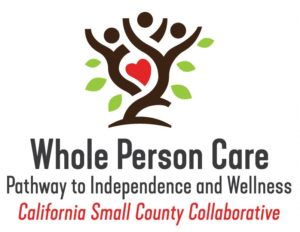 Program Overview
Whole Person Care (WPC): The WPC program focuses on the coordination of health, behavioral health, and social services, as applicable, in a patient-centered manner with the goals of improved beneficiary health and well-being through more efficient and effective use of resources. San Benito County (SBC) is the lead entity for the California Small County Collaborative which also includes Plumas and Mariposa Counties.
Contact
Program Manager, Kim Allen, Email: wpcsbc@cosb.us
San Benito County, Health and Human Services Agency
Address: 1161 San Felipe Road. Hollister, CA 95023
Phone:  (831) 638-3383
Fax:  (831) 634-0785
Program Goals
To provide enhanced care coordination services to adults who are homeless or at risk of homelessness with mental illness and/or substance abuse disorder, or that have two or more chronic conditions.
Serve participants who are high users of multiple healthcare systems and reduce costly hospitalizations and visits to the emergency department by assisting them with services and supports necessary to break down the barriers and challenges that prevent them from being successful in managing their illnesses or stabilizing their lives.

Program Components
Participant "Client" Engagement and Outreach
Multi-disciplinary approach
Comprehensive Care Coordination
Permanent Housing
Real-time data sharing between partners
Target Population
San Benito County adult Medi-Cal beneficiaries that are homeless or at risk of being homeless with one or more of the following:
Have a behavioral health condition (Mental Health or Substance Abuse disorder)
Two or more chronic health conditions
Repeated incidents of avoidable Emergency department use, hospital admissions, or nursing facility placement
Involved with the Criminal Justice System
Program Timeline
July 2017 – 2020
WPC Kick-off meeting November 2017
Enrollment begins January 2018

Priority: About 42 participants who are homeless or at risk of being homeless
No Cap: Up to 187 more/or less total participants over the 3 year period with an expected reduction in participants during 2019-2020.
For general inquiries about Whole Person Care, please contact us at  831-638-3383.
Program Resources
Referrals
Public Flyer/Client Agreement
Free viewers are required for some of the attached documents.
They can be downloaded by clicking on the icons below.