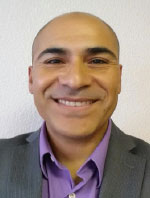 Enrique Arreola
Enrique has been with the agency for 8 year managing the agency's Community Action Agency anti-poverty programs, the agency's Workforce Innovations and Opportunity Act (WIOA) programs, the San Benito County Migrant Center, the CalWORKs Program and the County's Public Authority for In Home Support Services (IHSS). As the Deputy Director for CSWD, he is responsible for the budget development and control as well as the daily operations and Administration of CSWD.
His previous experience includes the position of deputy director of youth services for one of the leading non-profit organizations in Santa Clara County that provides services to children, youth, families and seniors to predominantly low-income residents. Mr. Arreola has extensive experience for the oversight, leadership, contract compliance, fiscal and administration and quality controls for community service projects. Overall, he has over 23 years of experience providing social service programs to under privilege low-income children, youth and families.
He has volunteered with several non-profits for over 15 years locally. He was born in Mexico, raised in Hollister by Migrant Family of 9 children and worked in the fields until the age of 20. He is bilingual/biliterate in English and Spanish.