H.O.M.E. Resource Center – Shelter Services
H.O.M.E (Housing Opportunities Meals Empowerment) Resource Center. Provides overnight shelter from 4 P.M.-8 A.M. for homeless individuals ages 18+.
Located at 1161 San Felipe Rd, Hollister, CA. 
Bus pick-up service is available. Warm bed, hot meal, shower and locker. First stop is at 4:30 pm – Hillside Christian Fellowship. Second stop is at 4:45 pm – West & 3rd St. Third stop is at 5:00 pm – Dunne Park and My Father's House.
HOME Flier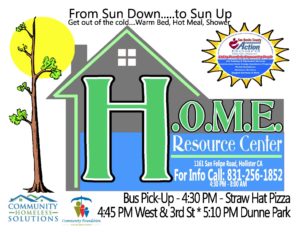 FREE Volunteer Income Tax Assistance (VITA) Program. Check our photos to see where you can get your taxes done for FREE!
California families earning less than $55,000 can receive cash back by claiming the federal EITC on their tax return, and those earning less than $22,300 can also qualify for the California EITC. In 2016, the combined credits returned over $6,000 to some families and the average California EITC benefit was $531.
For more information Call Trino at (831) 637-9293 or E-mail jserrano@cosb.us
Request for bids for operator and management of Homeless shelter H.O.M.E Services Center. Click link below to see the PDF File.
Do you need help with rent? Call to be placed on the waiting list: (831) 638-3315
PG&E or Propane utility assistance. You may be eligible for up to $318. We've moved to suite 107. Community Services & Workforce Development. 1111 San Felipe Road, Ste 107. Hollister, CA 95023. For more information call (831) 637-9293
Are you, or someone you know living with HIV or AIDS? Assistance is available. Services for low-income persons living with HIV/AIDS who are homeless or unstably housed include: Permanent housing, food assistance and dental. Grace at (831) 637-9293 or Email: gorta@cosb.us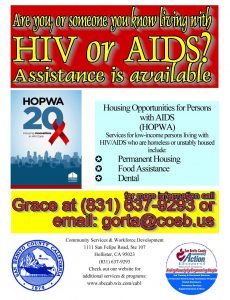 Interested in recreational and youth enrichment programs: sports, Art, Theater, Dance, Tutoring, soccer, Cheerleading, football. Are you between age 4-18? Find out more information on youth scholarships.